Endorsements
Politician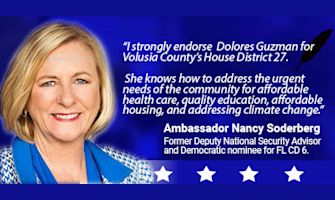 American Ambassador, former Deputy National Security Advisor and Democratic nominee for FL CD 6
---
"
I strongly endorse Dolores Guzman for Volusia County's House District 27. She knows how to address the urgent needs of the community for affordable health care, quality education, affordable housing, and addressing climate change.
She brings a deep understanding of the needs of the district through her decades of leadership as an insurance agent, a caretaker, and an Affordable Care Act navigator. She founded the Volusia County Democratic Party Hispanic Caucus and has worked tirelessly on voter registration drives and is passionate about helping those in need.
She knows how to win, having secured a seat on the West Volusia Hospital Authority in 2018. No one is better qualified or will work harder for the needs of the people.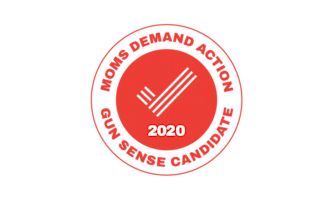 Gun Sense Candidate distinction is not an endorsement from Everytown for Gun Safety Action Fund or its volunteer network
---
"
"We are happy to inform you that your campaign has been awarded the 2020 Moms Demand Action Gun Sense Candidate distinction. Thank you again for advocating for gun violence prevention and making a commitment to govern with gun safety in mind.
Moms Demand Action is part of Everytown for Gun Safety, and is the nation's largest grassroots volunteer network working to end gun violence in America. With nearly six million supporters and volunteer chapters in every state, Moms Demand Action campaigns for new and stronger solutions to lax gun laws and loopholes that jeopardize the safety of our families."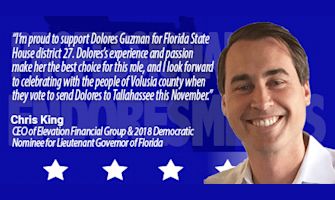 CEO of Elevation Financial Group and 2018 Democratic Nominee for Lieutenant Governor of Florida
---
"
"I'm proud to support Dolores Guzman for Florida State House District 27. Dolores's experience and passion make her the best choice for this role, and I look forward to celebrating with the people of Volusia county when they vote to send Dolores to Tallahassee this November."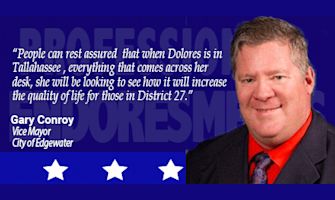 Councilman of Edgewater
---
"
"People can rest assured that when Dolores is in Tallahassee , everything that comes across her desk, she will be looking to see how it will increase the quality of life for those in District 27."
Former Volusia County Council Member
Patricia Northey
---
"
I write this letter in support of Dolores Guzman's candidacy for the Florida State House Representative District 27 seat. Over the years I've had many opportunities to observe her work in the community and as an elected West Volusia Hospital Commissioner. Dolores is an untiring advocate for all who call our community home!
Dolores's work throughout the years has prepared her for taking on this important elected leadership role. Goal oriented and community focused, she is well equipped to deal with the difficult issues that face us as we move our state forward.
As a former elected official for Volusia County, I enjoyed working with Dolores on projects and programs that had a positive impact on our community and the citizens who live, work and play in Southwest Volusia County. I especially appreciate her work on behalf of those less fortunate and our elderly. Whether it is through advocacy in the community or through her role as a Hospital Commissioner she has been tireless in her effort to protect and advance our community's welfare.
We need someone in Tallahassee who shares our community values and knows what it important to us. I look forward to casting my ballot for Dolores Guzman for election to the Florida House District 27 seat.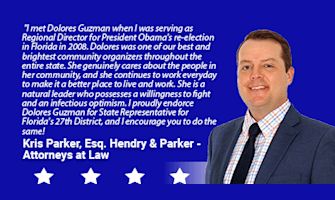 Hendry & Parker - Attorneys at Law
---
"
"I met Dolores Guzman when I was serving as Regional Director for President Obama's re-election in Florida in 2008. Dolores was one of our best and brightest community organizers throughout the entire state. She genuinely cares about the people in her community, and she continues to work everyday to make it a better place to live and work. She is a natural leader who possesses a willingness to fight and infectious optimism. I proudly enforce Dolores Guzman for State Representative for Florida's 27th District, and I encourage you to do the same!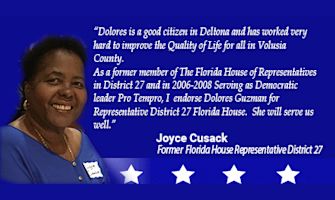 Former Florida House Representative District 27
Joyce Cusack
---
"
Dolores is a good citizen in Deltona and has worked very hard to improve the quality of life for all in Volusia County. She is a mother of two children and the grandmother of three beautiful grandchildren. And the daughter of her 85 year old mother.
Work experience: Worked as legal assistant and licensed Health Insurance Agent, and currently serves as a member of the West Volusia Hospital Authority.
As a former member of the Florida House of Representatives in District 27 and in 2006-2008 Serving as Democratic leader Pro Tempro, I endorse Dolores Guzman for Florida House Representative District 27. She will serve us well.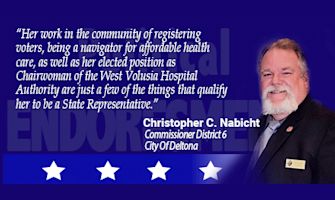 Commisioner District 6, City of Deltona
Christopher C. Nabicht
---
"
I have had the pleasure of knowing Ms. Dolores Guzman for the last 9 years, as both a community advocate and family friend. During this time I have observed that she is a hard working and conscientious individual. She is dedicated and participates with 110% in all of her endeavors.
Her work in the community of registering voters, being a navigator for affordable health care, as well as her elected position as Chairwoman of the West Volusia Hospital Authority are just a few of the things that qualify her to be a State Representative. As a mother and Grandmother, Dolores also cares deeply about our environment, educational system, health care and our economic future. Ms. Guzman is an intelligent and motivated individual. Her leadership ability as well as her friendly attitude and commitment to the task at hand will be a true asset to our great state. Above all, I know Ms. Guzman to be of good moral character, honest, truthful and a good friend. I am proud to know her and strongly endorse her for the Florida State House District 27. Please join me and support Dolores Guzman for District 27.
Committee
Steve Wonderly Political Chair, Sierra Club Volusia-Flagler Group Vice-Chair, Executive Committee, Sierra Club Florida
Politician
Rep. Amy Mercado & Senator Victor Torres Jr.
---
"
We are proud to endorse Dolores Guzman for Florida State House, District 27. Having known her for nearly a decade we are confident in Dolores' ability to flip this seat and get us one step closer to a blue majority. She has been on the front lines serving the community that she loves as a navigator for the Affordable Healthcare Act as well as the president of the Volusia County Chapter of the Democratic Hispanic Caucus of Florida. She brings a great understanding of the needs of her district and the people understand that.
Her impressive victory last cycle to win a seat on the West Volusia Hospital Authority shows a proven ability to win. There is no one more ready to take on the responsibility of leadership at this unprecedented time.
Join us in helping Dolores achieve victory for the people of her District and Florida. She will be a great asset to our group of Legislators in the Florida House.
Senator Victor Torres, Jr Representative Amy Mercado
Committee
---
"
Dolores Guzman, Florida State House District 27
If elected, Guzman would be the first Latina and first Puerto Rican woman to represent Florida State House District 27. 
Guzman's work in the healthcare industry got her into politics. She is a board member at the Hispanic Health Initiative. In 2018, she was elected county commissioner of the West Volusia Hospital Authority, where she provides input on initiatives to provide services to Volusia's underserved communities.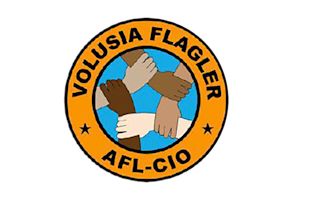 President
---
"
On behalf of the 37,000 working people represented by the Volusia/Flagler AFL-CIO, I am pleased to announce the unanimous endorsement of your candidacy for Florida House District 27. This Council believes that you will work diligently to secure and improve the quality of life for working families in Volusia County. The working people affiliated with this Central Labor Council are looking forward to assisting you during your campaign. In Solidarity, Daniel Kurczi President Volusia/Flagler Central Labor Council, AFL-CIO
Anne & Brian Brennan
Endorsement
President Phil Giorno
Democratic Veterans Caucus of Florida
---
"
Dear Ms. Guzman: Congratulations! The Democratic Veterans Caucus of Florida has awarded its endorsement to you in the November 3, 2020 General Election for the office of Florida State House of Representatives, District 27. Through your work in your community as a health insurance agent, a Healthcare Marketplace Navigator and as a commissioner of the West Volusia Hospital Authority, you have shown yourself to be a true friend of veterans and their families. Please see the included endorsement logo which you may use in any way you see fit for your campaign.
Thank you for your service, then and now,
Phil Giorno, President Democratic Veterans Caucus of Florida presdvcfgiorno@gmail.com 386-717-3979