Endorsements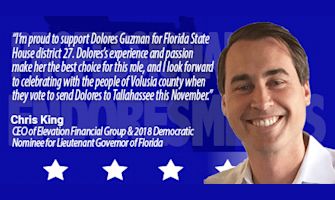 CEO of Elevation Financial Group and 2018 Democratic Nominee for Lieutenant Governor of Florida
---
"
"I'm proud to support Dolores Guzman for Florida State House District 27. Dolores's experience and passion make her the best choice for this role, and I look forward to celebrating with the people of Volusia county when they vote to send Dolores to Tallahassee this November."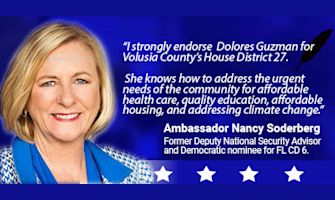 American Ambassador, former Deputy National Security Advisor and Democratic nominee for FL CD 6
---
"
I strongly endorse Dolores Guzman for Volusia County's House District 27. She knows how to address the urgent needs of the community for affordable health care, quality education, affordable housing, and addressing climate change.
She brings a deep understanding of the needs of the district through her decades of leadership as an insurance agent, a caretaker, and an Affordable Care Act navigator. She founded the Volusia County Democratic Party Hispanic Caucus and has worked tirelessly on voter registration drives and is passionate about helping those in need.
She knows how to win, having secured a seat on the West Volusia Hospital Authority in 2018. No one is better qualified or will work harder for the needs of the people.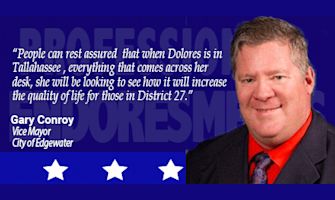 Councilman of Edgewater
---
"
"People can rest assured that when Dolores is in Tallahassee , everything that comes across her desk, she will be looking to see how it will increase the quality of life for those in District 27."
Former Volusia County Council Member
Patricia Northey
---
"
I write this letter in support of Dolores Guzman's candidacy for the Florida State House Representative District 27 seat. Over the years I've had many opportunities to observe her work in the community and as an elected West Volusia Hospital Commissioner. Dolores is an untiring advocate for all who call our community home!
Dolores's work throughout the years has prepared her for taking on this important elected leadership role. Goal oriented and community focused, she is well equipped to deal with the difficult issues that face us as we move our state forward.
As a former elected official for Volusia County, I enjoyed working with Dolores on projects and programs that had a positive impact on our community and the citizens who live, work and play in Southwest Volusia County. I especially appreciate her work on behalf of those less fortunate and our elderly. Whether it is through advocacy in the community or through her role as a Hospital Commissioner she has been tireless in her effort to protect and advance our community's welfare.
We need someone in Tallahassee who shares our community values and knows what it important to us. I look forward to casting my ballot for Dolores Guzman for election to the Florida House District 27 seat.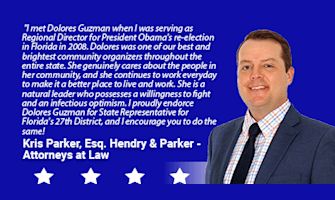 Hendry & Parker - Attorneys at Law
---
"
"I met Dolores Guzman when I was serving as Regional Director for President Obama's re-election in Florida in 2008. Dolores was one of our best and brightest community organizers throughout the entire state. She genuinely cares about the people in her community, and she continues to work everyday to make it a better place to live and work. She is a natural leader who possesses a willingness to fight and infectious optimism. I proudly enforce Dolores Guzman for State Representative for Florida's 27th District, and I encourage you to do the same!
Anne & Brian Brennan